FOUR CHAIR DINING TABLE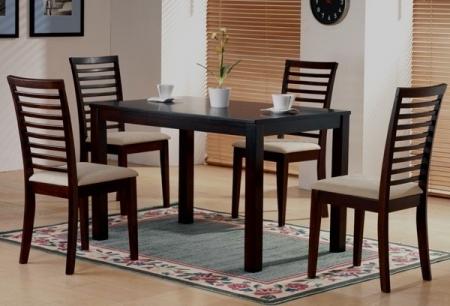 WIDE RANGE AVAILABLE OF FOUR CHAIR DINING TABLE SETS TO SUIT YOURS MOOD AND DECOR. COMFORTABLE SITING AND LONG LIFE PRODUCTS AVAILABLE IN TEAK WOOD,SHISHAM WOOD,RUBBER WOOD,SUBUL WOOD, MIX WOOD, STEEL CHROME ,STAIN LESS STEEL AND PLASTIC MATERIAL.
There are no products to list in this category.
New Products For July - DINING ROOM FURNITURE
PRODUCT DESCRIPTION Width 60cm Suction ...

RICHFEEL LOCKERS are for complete peace...

PRODUCT DESCRIPTION Width 90 cm Suction...

PRODUCT DESCRIPTION BRAND SLEEK MODEL B...

Rs.18,000/-

Rs.14,400/-

Save: 20% off

PRODUCT DESCRIPTION Product Dimension: ...

Rs.17,485/-

Rs.12,240/-

Save: 30% off

PRODUCT DESCRIPTION Product Dimension: ...

Rs.14,570/-

Rs.10,199/-

Save: 30% off
Featured Products - DINING ROOM FURNITURE
PRODUCT DESCRIPTION Width 90 cm Suction...

RICHFEEL BAR STOOL MODEL - RICHFEEL BAR...

Rs.3,200/-

Rs.2,400/-

Save: 25% off

BRAND - NILKAMAL MODEL CRYSTAL PP COLOR...

PRODUCT DESCRIPTION 64 cm Cooktop with ...

Rs.12,950/-

Rs.10,360/-

Save: 20% off

RICHFEEL BAR & RESTAURANT TABLES MODEL ...

CEASEFIRE PORTABLE DRY POWDER EXTINGUIS...

Rs.2,145/-

Rs.1,823/-

Save: 15% off
Monthly Specials For July
PRODUCT DESCRIPTION Product Dimension: ...

Rs.14,570/-

Rs.10,199/-

Save: 30% off

A bed wide enough to accommodate two sl...

Rs.40,000/-

Rs.30,000/-

Save: 25% off

BRAND PRIMA MODEL 113 PRODUCT BABY CHAI...

Rs.300/-

Rs.240/-

Save: 20% off

PRODUCT DESCRIPTION Width 60cm Suction ...

Rs.12,100/-

Rs.9,075/-

Save: 25% off

PRODUCT DESCRIPTION 64 cm Cooktop with ...

Rs.12,950/-

Rs.10,360/-

Save: 20% off